Things are reasonably steady. In the morning Syl is washed by someone from home care (I assist her) and in the afternoon and evening someone from home care comes by to do things that need to be done (cleaning e.g.). The washing part is painful, so I give Syl a little bit of morphine one hour prior to the washing and that helps. She also has an adhesive plaster with morphine that gives her a continuous dosage of morphine.

Almost every day we receive cards, this week even another beautiful bouquet of flowers (thank you very much, José!) and regularly family and friends drop by.

Syl is pretty tired, so a large part of the world around her passes her by without really knowing (she sleeps a lot), but when she is awake, she is reasonably aware of her surroundings and most of the time also who is in front of her. Although sometimes she mixes up people. Having a 'normal' conversation with Syl, as we were used to have, is too complex for her. She understands reasonably well what is said, but when it comes to participating in the conversation, or answering questions…that's usually sheer impossible. Questions that need her answer, need to be as simple as possible and one at the time. Eating is still something she does well (although I need to help her with that), but chewing and swallowing is still fully functioning and her taste is very well in tact (thank God for that!). So she's enjoying food very much so.
Having said all that, I can't but face the fact she is slowly slipping through my fingers and that hurts. A lot. I think the best way to describe how I feel, is as if I am waiting for surgery to get a body part amputated. One would want the waiting to be over, but then again, who would want a body part amputated? It feels like choosing between two bad situations. And I don't even HAVE a choice. It's just freaking hard; that's what it is.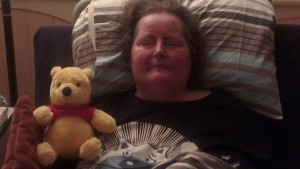 So what I do, is try to focus on the good things: Syl's still here, able to enjoy some things on a daily basis. She's not in real pain. I am still able to take care of her, now helped by many kind and capable people. We both sleep well and I am on a daily basis in awe how brave Syl is coping with the whole darn situation. And that helps. A bit. But the bottom line is: I want my wife back! But I can't. And there is nothing I can do about it 🙁