A lot has happened since my last update (Nov. 28th): On Nov. 29th, Riette stopped by, which was a great reunification (Syl and Riëtte always had that kind of relationship). She brought us a great lunch, but I forgot to take pictures; luckaly she will be back this wednesday, so I can try again 😀 Looking forward seeing you again, Riëtte!
Later that day Rene stopped by with a great soft pillow for Syl's arm, a great picture of the two of them back in 2001, and a CD with some demo's. And to top it, we got a mini living room concert, using Syl's own guitar. Again forgot to take some pictures (where am I with my head?), but I recorded the concert, so we can always listen it back again. Thank you René and I'm sorry for the strings of the guitar 😉
Saturday Karin, Esther and Jennifer stopped by, also with a great lunch (yes, we are indeed spoiled) and two great soft pillows. Also Esther made a great big glass suitable for burning a candle. Thanks a lot ladies! Love your support!
In the evening, Ron (Syl's brother) and his wife Jeanette dropped by. Always great to see them!
Sunday Dec. 1st, Nico came by; was way too long ago, but that was our own fault (because we limited the number of visits strictly this summer). Great to see you again and sorry Manuela couldn't come at the last minute. Looking forward to our resprise coming monday!
Because of the busy week, we limited the number of visits again the next week, so except for the regular parents visits, only Denise and Willy visited us on tuesday. Great to see you again! Although never far away.
On December 7th, Rene Shuman En Angel Eye had a jubilee concert in Kerkrade. They gave us tickes for that some time ago and I arranged hotel etc. to go there with Syl's parents, Ingrid and Jeannette. You'll understand this wasn't possible anymore, so I arranged all people involved to stop over at our house and we would watch a Shuman and Angel Eye DVD together. As a big surprise, were also given a special present: we could watch the second part of the show in Kerkrade live via internet! This was amazing! Thanks a lot guys for arranging this!!! It felt as if we were there after all!
Sunday Dec. 8th Paul & Sandra came over and brought us lunch (do you see the thread…?) That meeting is always great <3
Tuesday 10th, Ron, Ferdi and Iris dropped by; a little family get-together.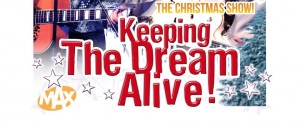 Saturday 14th, there was a XMAS concert from Rene and Angel Eye in Vlaardingen for which we had tickets. I managed to arrange an organisation called 'Ambulance Wish' to bring Syl and me to the concert and back again, using volenteers and an ambulance. Unfortunately I had to call it off, because I expected it to be too energy consuming for Syl and I wasn't sure if she could still enjoy the concert after such a tough trip. We watched a XMAS DVD of S&A instead and at the moment we were listening to 'Silent Night' on the DVD (one of Syl's most favorite S&A songs), we got a call telling us R&A were dedicating a song for her at that very moment in Vlaardingen and we could listen to it on the phone! And guess what song? Indeed: Silent Night! Serendipity in it's greatest form! And Syl was clear enough to understand what was happening! Thanks again guys for such a beautiful gift!
Last sunday Ineke came over again. It's just great to see you, talk to you and hug you <3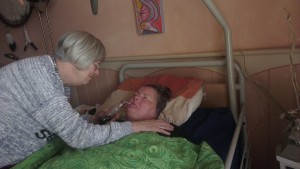 Today Jeanette and Elvin stopped by, another small family reunion. Always great to see you!
The past weeks we also received several flowers. Thank you very much Wencke, Carla and Leo, Anne and George and Marianne and Jeroen!
Please forgive me if I forgot someone; I got a memory like a sieve nowadays. Please be convinced your presents, but also your cards and messages are hugely appreciated!
At the moment, Syl is pain free, but her conciousness is deteriorating. Normal conversations are not possible; if I'm lucky I get answers that make sense when I ask a simple question; sometimes verbally with one or two words, but in most cases by nodding or shaking her had. She sleeps more and more and where she used to wake up herself in the morning, nowadays I have to wake her up (she needs to take her medicine), which is sometimes hard to accomplish. Honesty compels me to say that for a large part I have lost contact with my soulmate already. It's mainly keeping her as comfortable as possible and continue telling her how much I love her and that I am with her to the end. I see from her reaction that she understands what I'm saying, but response is merely impossible for her. I comfort myself with the thoughts that she has been sharing her feelings for me continuesly for the past 14 years. And although very hard sometimes, it is great to be able to take care for her, helped by so many beautiful people from the Home Care Team and feeling lifted by your support.
So a big THANK YOU for you all, who help me do what I love to do most: take care of my (and your) dear Syl! <3 <3 <3