Today was a day of rememberance. Looking back at Syl's life, remembering the part we shared with hers. It was an emotional day, but foremost it was a beautiful day. Even the sun came out of it's hiding, shining at it's fullest!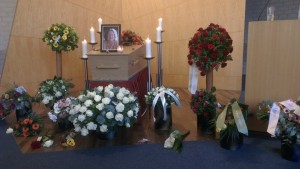 Thank you very much for being there, sharing this beautiful moment with me and Syl's family. I feel honored for such a great attendance; despite the busy time of year.
Thank you for your kind words afterwords; I'll take them with me in my heart. I take you with me in my heart.
Time to have some rest now; the new year is arriving soon. A year I hope to decide how I will take care of Syl's legacy: her books, websites, products but foremost her ideas. I wish you all well and hope to stay in contact. Love, Peter