Time for a little update, which I will be writing, since Syl is feeling too tired to do it herself. And she loves to save her energy so she can keep doing things that make her happy.
Like yesterday: we went to an Open Home day at my work in Vlaardingen.
Syl had not yet seen where I'm working, so she was naturally interested. Also there were to be many demonstrations, so I invited her parents along too.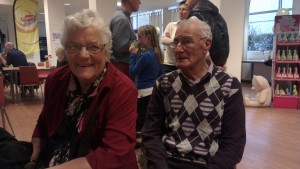 What a great day it was, with lots of interesting stuff to see, great food, bumping in to some of my collegues and finally a Shanti Choir that appearantly made both Syl and her father sing along out loud. We had a great day!